There are many reasons to build a custom home. Perhaps you want a home that is specifically tailored to your needs and lifestyle. Maybe you have always dreamed of having a unique home that stands out from the rest. Whatever your reason, there are certain features that can only be found when building custom homes. In this blog post, we will discuss some of the most popular features homeowners request when they decide to go the custom route. So if you are considering building a new home, be sure to read on for some inspiration!
Unique Features in Custom Homes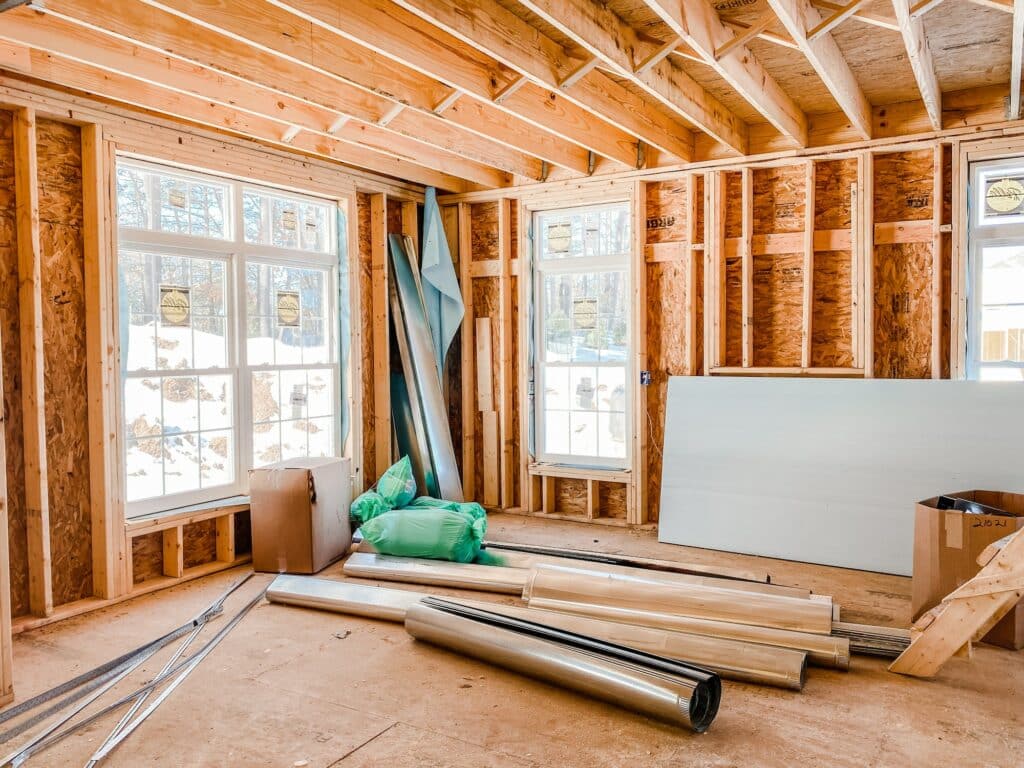 If you have been thinking about building a custom home, you likely have some unique features in mind. The best thing about custom homes is that they are designed to cater to your individual needs and tastes. So including features in your home that will make your life easier seems like a no-brainer! Here are some examples of unique features that are commonly found in custom homes:
Although built-in shelving is a typical feature in custom homes, creating your own space allows for more flexibility in design. Incorporating options like built-in desks, tables, and bookshelves can provide a unique opportunity to achieve the desired level of organization while also achieving a modern and uniform aesthetic.
Plan to Have Outlets Everywhere
When deciding on luxury features for your new home, it's important to consider electrical options. Even though it may not be the first thing that comes to mind, ensuring that there are enough outlets in your kitchens, bathrooms, and outdoor living areas will make your life more comfortable. Installing outlets and USB ports in unexpected places, like under cabinets and on mantels, will be helpful for you and your guests.
Incorporate a Kitchen Nook
When it comes to custom homes, kitchen nooks are always a popular choice! Creating an intimate space for meals and conversation can be achieved through various design elements. From built-in benches with cozy cushions to tables tucked away in the corner, utilizing a kitchen nook is an excellent way to make your home feel warm and inviting.
Have Your Master on the First Floor
Consider adding dual suites to your floor plans and keeping one master suite on the ground level if you are building a new home. This is a popular feature that improves accessibility and can be especially helpful if you plan to have older family members living with you. It can make your life easier and increase the resale value of your home. Remember, accessibility is always in style!
Plan Exactly Where You Want Your Laundry Room
If you are designing a custom home, it's essential to plan out how you want your laundry room set up. This includes deciding where the washer and dryer will be located, as well as creating efficient storage space for detergents and other supplies. If you have young children, you may even consider adding a folding countertop next to the machines. This is a great way to keep your laundry area organized and clutter-free!
Have an Indoor/Outdoor Space
Creating an indoor/outdoor living space can be a great way to maximize your home's usable square footage. Having the ability to access your outdoor area from indoors offers convenience and provides additional seating when entertaining guests. Plus, you'll be able to enjoy the beauty of nature right in your own backyard!
Be Environmentally Friendly
When it comes to custom homes, energy efficiency is key. Investing in products that have been certified as energy-efficient can help you save money on your utility bills. Consider adding insulation, low-flow fixtures and Energy Star appliances to ensure that your home stays comfortable no matter the season.
If you love to entertain, a wine cellar is an excellent way to store your favorite vintages in style. It also adds sophistication and character to any custom home. The great thing about having a wine cellar is that it can be designed to match the size of your collection, whether small or large. Additionally, if you invest in a climate-controlled wine cellar, you will be able to preserve the taste and quality of your wines for years.
If you are looking for a way to keep your home clutter-free, consider designing a large mudroom with plenty of storage options. This can help make coming and going easier by providing designated places for shoes and jackets. Additionally, you may even want to incorporate a pet station into the design to ensure that grooming supplies stay organized.
Technology has become an integral part of everyday life, and custom homes often include the latest advancements in smart home technology. You can integrate thermostats and lighting systems that are voice-controlled, or even create a whole-home audio-visual system. Smart home technologies give you control over your environment while also providing convenience when it comes to energy efficiency. Plus, whether you're at work or on vacation, you can rest easy knowing that your home is always secure and comfortable.
These are just a few ideas to consider when designing your custom home. Ultimately, the best way to ensure that you get exactly what you want is to work with an experienced team of custom home builders who understand your vision and can turn it into reality. With the right team, you can create a unique and beautiful space that reflects your personality and style.
No matter what design features you decide to include in your custom home, make sure that it is a reflection of you and your family's lifestyle. With the right floor plan and thoughtful details, you can create a space that you'll love for years to come.
Our team at Built Right Homes is dedicated to helping you create a comfortable and stylish space that fits all of your needs. We offer a variety of services, including floor plan design, interior design consulting, and construction management. Contact us today to learn more about how our team can help you build the home of your dreams!