Are you feeling overwhelmed by the thought of taking out a loan to finance your custom home purchase? If so, know that you're not alone. The good news is that there are several potential loan options available to help make this dream come true – all while minimizing the stress and worry associated with financing such a significant endeavor. You'll want to arm yourself with knowledge, though, in order to be sure you understand all of the benefits and drawbacks associated with a custom home loans. Read on for some important things you need to know about this type of funding before making your decision!
Making the Decision to Build a Custom Home
Deciding to build a custom home is an exciting one! Maybe you have been looking for a new home and haven't found anything that quite fits your needs, or perhaps you have lived in your current home for a while and know that it just isn't quite the right fit for your lifestyle or future needs. Whatever your reasons, if you are considering taking out a loan to finance the purchase of a custom home, you need to be aware of the unique benefits and challenges associated with this type of funding.
Types of Custom Home Loans
When it comes to financing a custom home purchase, there are several loan options available. Depending on your current financial situation and credit history, you may be able to take out an FHA loan or even a conventional mortgage loan. However, if you don't qualify for those types of custom home loans, you may want to look into alternative financing, such as an adjustable-rate mortgage (ARM) or a bridge loan. Each of these has its own unique set of benefits and drawbacks, so be sure to do your research before deciding which one is right for you. Let's look deeper at the different types of custom home loans!
To finance your custom home, you'll require a specific type of loan called a construction loan. However, not all banks or financial institutions offer such loans. You can consult a trustworthy custom builder who can guide you about which banks offer construction loans and even facilitate obtaining the loan.
Construction loans are short-term, usually lasting between 12 to 18 months, depending on the project size. You'll need to pay at least 20% to 30% of the total loan cost as a down payment to get the loan. If you opt for a 12-month construction loan, you'll need to pay a sizeable down payment, and the interest rate might be higher than your permanent financing (mortgage) based on your creditworthiness.
There are a few different types of construction loans, including: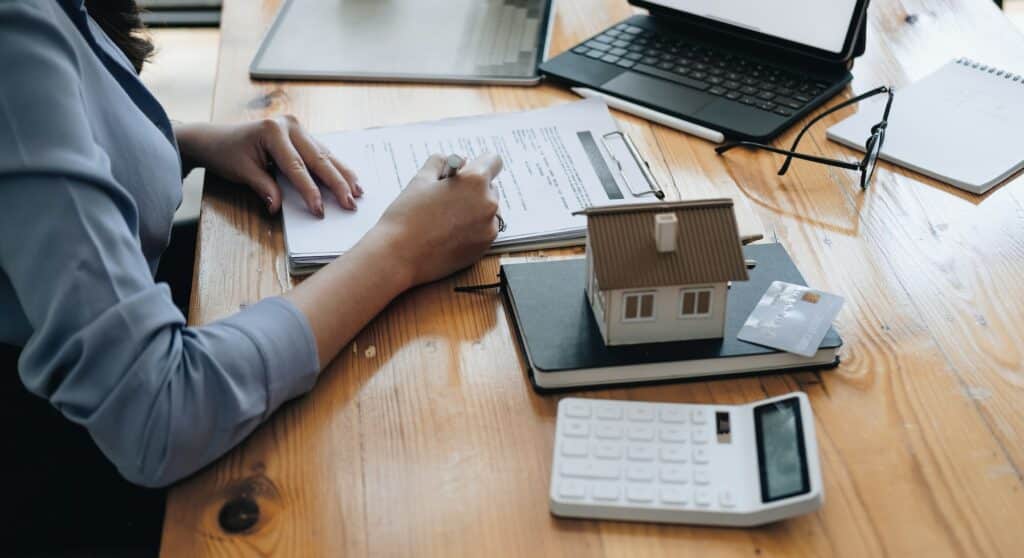 If you are building a custom home on your own land rather than buying an existing piece of property with the house already built, then you'll need to take out two separate custom home loans: one for the land and another for the construction loan. That's why it is important to know exactly how much money you'll need upfront before taking out any loans.
Lot and land loans are typically short-term, lasting only a few years, while construction loans vary depending on the size of the project (12 to 18 months). Lot and land loans usually require a down payment of at least 20%, but it is possible to find lenders that offer lower down payments or even no down payment options. Make sure you understand all the terms and conditions of the loan before signing any agreements.
Mortgage Based Custom Home Loans
To obtain a completed home, you will eventually need a mortgage, which is a permanent loan. However, if you have already obtained a construction-to-permanent loan, you won't be required to pay additional closing costs. The same is true if you obtained a standard construction loan and then refinanced the total cost of the home when construction was complete.
Mortgage-based custom home loans also come in different forms, including FHA, USDA, VA, and conventional mortgage loans. Each type has its own requirements, such as credit score and debt-to-income ratio, so it's important to understand the different types and how they could affect your eligibility.
Understanding the ins and outs of custom home loans and financing is essential in order to make an informed decision about what type of loan best fits your needs.
Terms for Custom Home Loans
All custom home loans has its own set of terms and conditions that you must be aware of before signing an agreement. Make sure to read the fine print carefully, as certain fees or other factors could increase your total payment amount or shorten the length of time in which you can repay the loan. Here are some of the different terms for custom home loans that you should be aware of:
Understanding Custom Home Loans with the Help of BRH
Custom home loans come in various forms and have different eligibility standards. When you're trying to finance your custom home, it's essential to be aware of these different loan types to make the best decision for yourself. Although considering this information may involve some research and legwork, it is always worth it in the long run. That is why our team at Built Right Homes recommends going through our experienced lenders when inquiring about custom home loans. They will assist you every step as you work towards building your very own custom home! Contact Built Right Homes today for more information, and get ready to start the journey toward pursuing your perfect dream home!