Ashland Custom Home Builders
Award-Winning Ashland Custom Home Builders
Built Right Homes is your award-winning choice for Ashland Custom Home Builders. We offer custom homes of all sizes and types. We work hard to make sure your home, as our name says, is built right. We offer quality construction, open communication, Award-Winning Designs, and outstanding customer service.
When you build with Built Right Homes you can be assured that quality is our top priority. We provide the best in industry craftsmanship using top-notch materials to deliver the highest quality possible in the custom home building industry.
Our in-house design team allows us to help you design your home with your needs in mind. We can adjust existing plans or provide subtle design features with quick turnaround to make sure you truly get the home of your dreams.
It's a major decision to hire one of the many Ashland Custom Home Builders instead of purchasing a home already built in the county. Potential homebuyers must weigh the benefits of a professionally built home against buying a pre-owned using a realtor. While both have their unique advantages, there are specific benefits to a custom-built home.
Built Right Home Construction.
Technology constantly improves. The innovations and developments in every sector of American life are fantastic, and the same is true for home construction. Over the last several decades, home construction has seen a number of tremendous improvements. Homes today are more solidly constructed, airtight, and energy-efficient than ever before.
Our homes do not come from an assembly line and sometimes customization choices change. We know that in order to provide our award-winning quality we have to be aware of our clients' wants and needs throughout the entire process. We keep open and ongoing communication throughout the entire custom home building process so we can ensure we get everything built right.
From windows to shingles, modern construction materials are far more effective, beautiful, and durable than they were even 40 years ago. Homes made today offer a more comfortable feel, easier maintenance, and enjoyable living. As technology advances, comfort, and design advance too! Let our award-winning team of experts show you more.
Your Home from the Start.
What is the Custom Home Building Process? We hear that question all the time. and as the premier Ashland Custom Home Builders, we know that when it comes to building a home, taking the first step is often the hardest part. That's because the pathway to actually getting your key in the door can seem daunting – but it doesn't have to be. We work with you through every step of the custom home building process, from financing to design to final inspection, so you're able to make informed decisions that maximize your budget.
The homes we build in Ashland do not have the vestige of some other homeowners. You don't have to add your personality to the home, it's already personalized for you! From the colors to the layout, everything is perfectly designed to complement your unique lifestyle. You don't have to squeeze your dream into the boundaries already set by someone else; It's yours right from the start. 
Instant Value.
One of the benefits of building a new home is that your custom home appreciates in value much faster than older, pre-purchased homes. You usually have instant equity in your home the moment you move in, unlike existing homes which can take a long time for equity to build. Let Built Right Homes, your Ashland custom home builders, help make your dream home a reality.
Built Right Homes is your one-stop-shop for professional Ashland Custom Home Builders. If you would be interested in building your dream home with us, fill out the contact form below!
Looking for Something Different?
OUR MANTRA IS SIMPLE: "NO PROBLEM!"
When you have a specific vision for your home, we do our absolute best to deliver. We're used to rolling with the punches and going above and beyond to make sure that your property is designed exactly to your liking.
Your unique ideas, personal style, and budget drive the process. Together, we'll take all of that into consideration and then work with you to create a design plan that makes sense. Then, we get to work utilizing state of the art building materials, modern appliances and the finest finishes to bring your ideas to fruition.
We offer our home buyers the best home warranty program on the market. Rest easy knowing that your home is protected for 10 years by the best coverage available for custom homes. Additionally, the warranty is automatically transferable from owner to owner, adding to the resale value of your home. Learn more about this amazing home warranty program here.
State of the art construction collaboration tools that allows us to provide a hands-on approach through every phase of a customers home building process. The CoConstruct platform helps remove some of the stress and anxiety while also providing a streamlined home building process for our customers.
The Ashland Custom Home Builders You Can Trust
When choosing a team of Ashland Custom Home Builders, it's important to ask the right questions to ensure that you find a builder that meets your needs. Here are some essential questions to ask a potential ashland custom home builders to help you make an informed decision.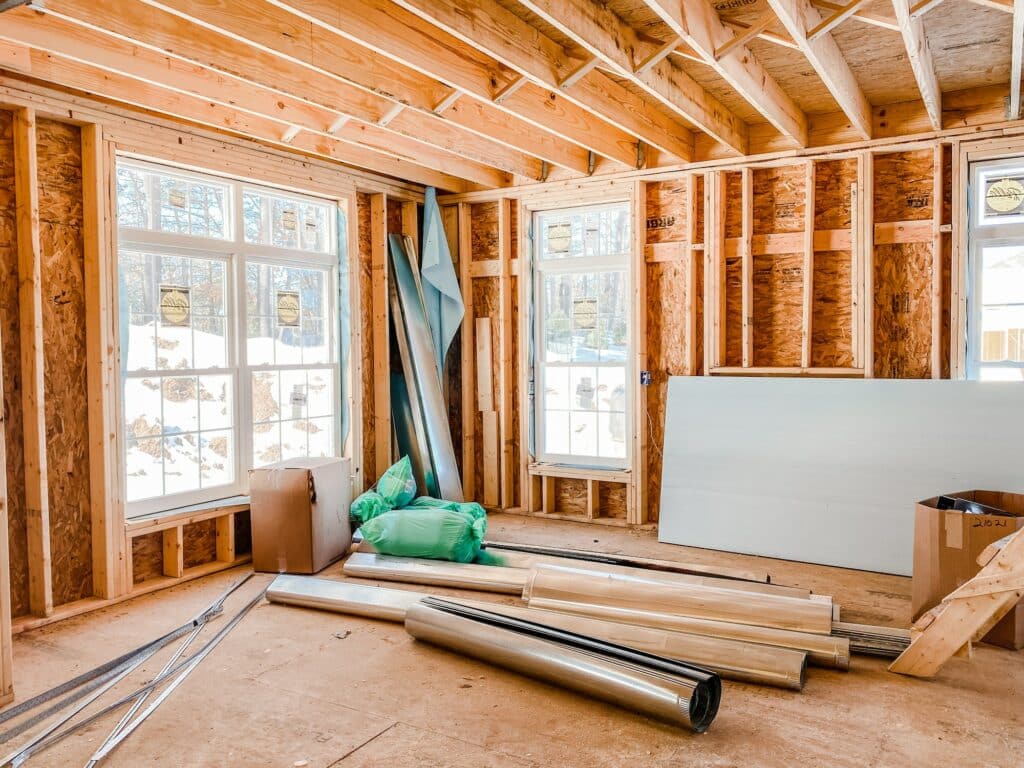 Ask if they can provide a detailed estimate that includes all expenses and fees for building your custom home, as well as if they offer a payment schedule.
How many years of experience do you have building custom homes?
How often will we be communicating throughout the process?
Do you have a portfolio of work that you can show?
How long does it typically take to complete a project of this size?
What is your approach to handling unexpected issues or changes during the construction process?
Do you offer any post-construction services or warranties?
Do you have any licenses or certifications that demonstrate your qualifications and expertise as a home builder in Stafford?
How do you ensure quality control throughout the building process? And what do you do if there are issues that arise?
What insurance coverage do you carry, and are you fully insured for liability and workers' compensation?
What is your custom home building process, and how do you make sure the client is involved ruing the design and construction process?
Why Choose Built Right Homes?
At Built Right Homes, we have the experience, reputation, and quality of work that you are looking for in a home builder. We have been building homes for over a decade and have a track record of exceeding our clients' expectations. Our team of Ashland custom home builders will work with you to bring your vision to life while staying within your budget and timeline. Contact us today to learn more about how we can make your dream home a reality!
Start Building Your Dream Home Today